Best Bank on the Block!
August 13th, 2023
We are proud to announce that Denali State Bank was awarded 1st Place as "Best Bank/Credit Union" in the 2023 Fairbanks Daily News-Miner Readers' Choice Awards! We are honored to serve our customers and community. Thank YOU for your support!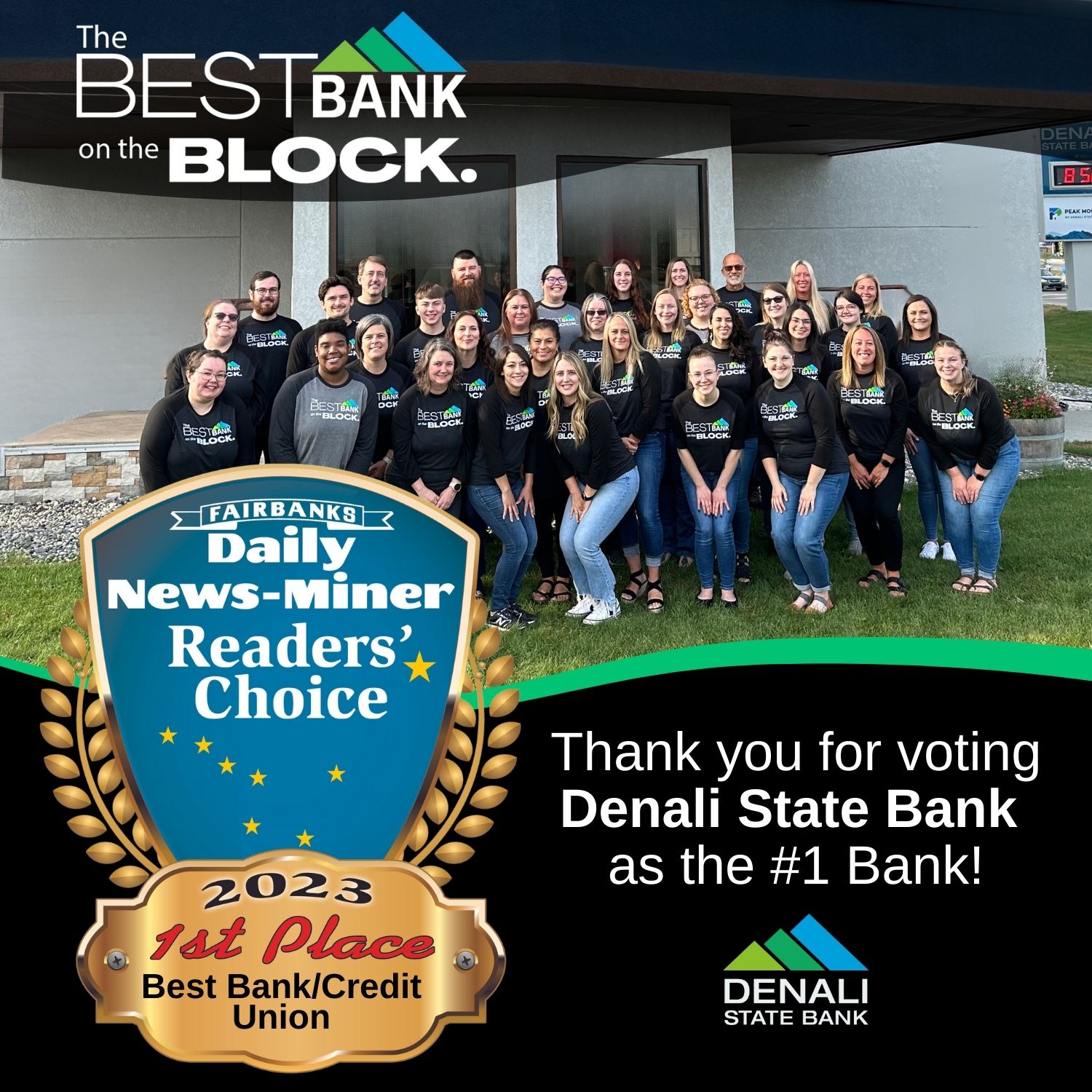 ---
2024 Calendar Image Contest!
June 23, 2023
Denali State Bank is hosting a calendar image contest for their 2024 calendar. To enter the contest, the Entrant must meet the following criteria:
Calendar image must be of the entrant's original creation (i.e. artwork or photograph). The entrant must be the sole owner of the image without any limitations within the law to allow Denali State Bank to consider (and use) the image.
Calendar image must be submitted in a high-quality format and fit the following dimensional area: 24W x 12.5H
Calendar image should reflect interior Alaska or Alaskan theme.
CALENDAR IMAGE SUBMISSION:
Entrants may submit up to three (3) images for consideration.
Image(s) along with this Contest Entry Form should be submitted together to the following email address:

[email protected]

DEADLINE: Image(s) and Contest Entry Form must be submitted on or before July 21, 2023 at 5pm.
/_/kcms-doc/1712/79604/Calendar-Contest-Entry-Agreement-2024.pdf
---
Denali State Bank Named to American Banker's Top 200 Publicly Traded Banks Under $2 Billion in Assets
June 12, 2023
FAIRBANKS, ALASKA—Denali Bancorporation, Inc. (DENI), the parent company of Denali State Bank, has been recognized as one of the American Banker's top 200 publicly traded banks under $2 billion in assets in the United States. The rankings are based on the three-year return on average equity (ROAE) for 2020 – 2022. Denali State Bank's three-year average ROAE for 2020-2022 was 13.86%, and its ROAE for the year ended December 31, 2022 was 18.66%.
"Denali State Bank is proud to receive this recognition and even more proud of our talented team of community bankers who take such good care of our customers and our community," said Denali State Bank President and CEO, Steve Lundgren.
Denali State Bank is a full-service community bank based in Fairbanks, Alaska. The bank opened its doors in 1986 with the belief that our community and customers deserve to work with a bank where all decisions impacting their financial wellness and security are made right here in Fairbanks, and even further, where those decisions are made by staff and management who also live, work, and believe in the importance of local banking.
---
5-Star Rating by BauerFinancial
June 1, 2023
Denali State Bank has been awarded the highest (5-Star) rating for financial strength and stability from the nation's premier bank rating firm, BauerFinancial. The 5-Star rating classifies us as a "Superior" financial institution for 2023 and demonstrates that our bank is one of the strongest in the nation, excelling in areas of capital, loan quality, and more.
BauerFinancial reviews financial data compiled from call reports as reported to federal regulators, and uses a rigid barometer of multiple criteria to assess each financial institution, including capital ratios, profitability/loss trends, community reinvestment ratings (CRAs), historical data, and liquidity.
As an independent organization, BauerFinancial does not get paid to rate any institution, nor can any institution opt out of the rating system. Learn more about the BauerFinancial rating system here.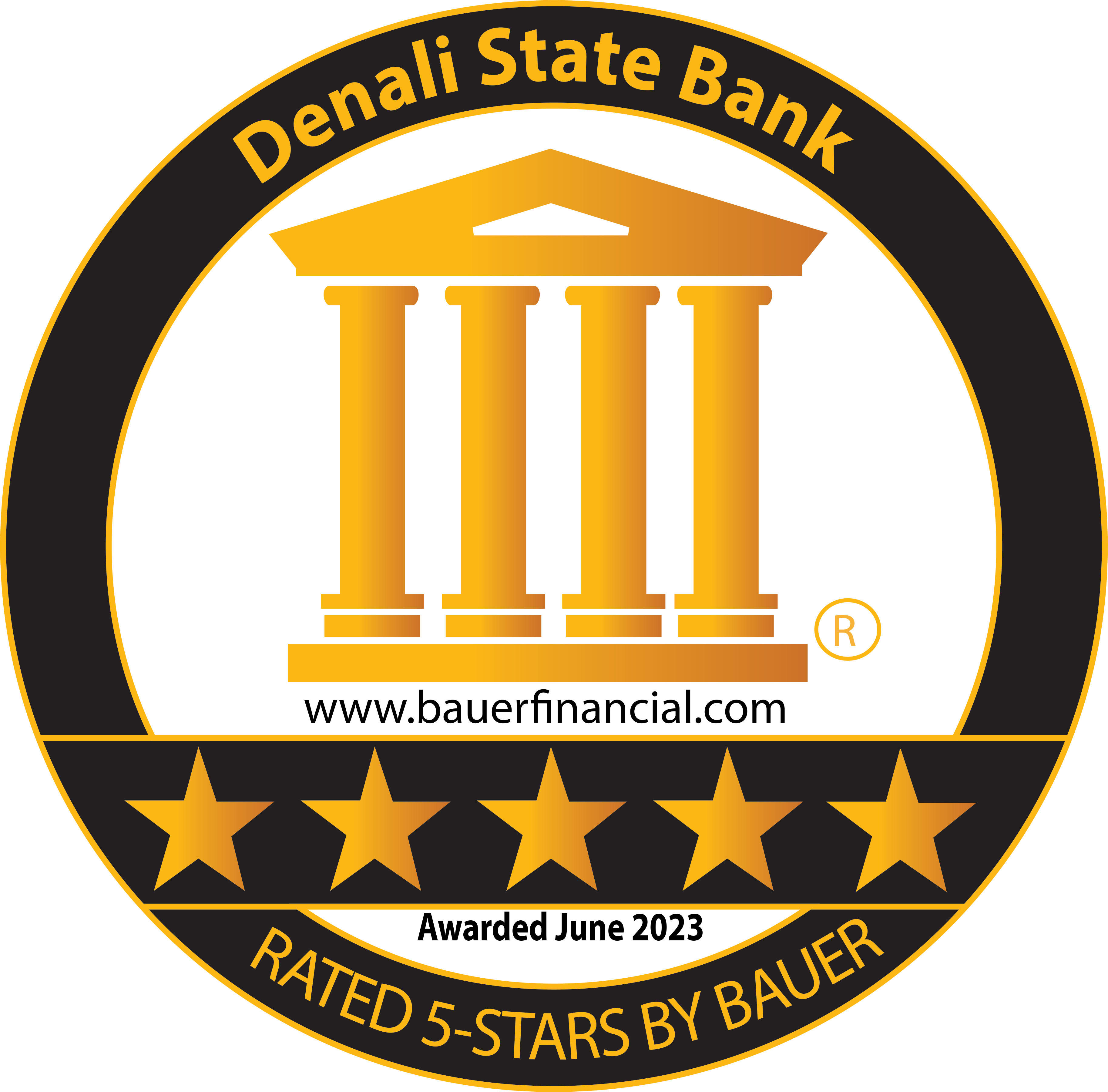 ---
Independent Community Bankers of America 40 Under 40 list!
June 1, 2023
Congratulations, Victoria Denning, for being named to the Independent Community Bankers of America 40 Under 40 List.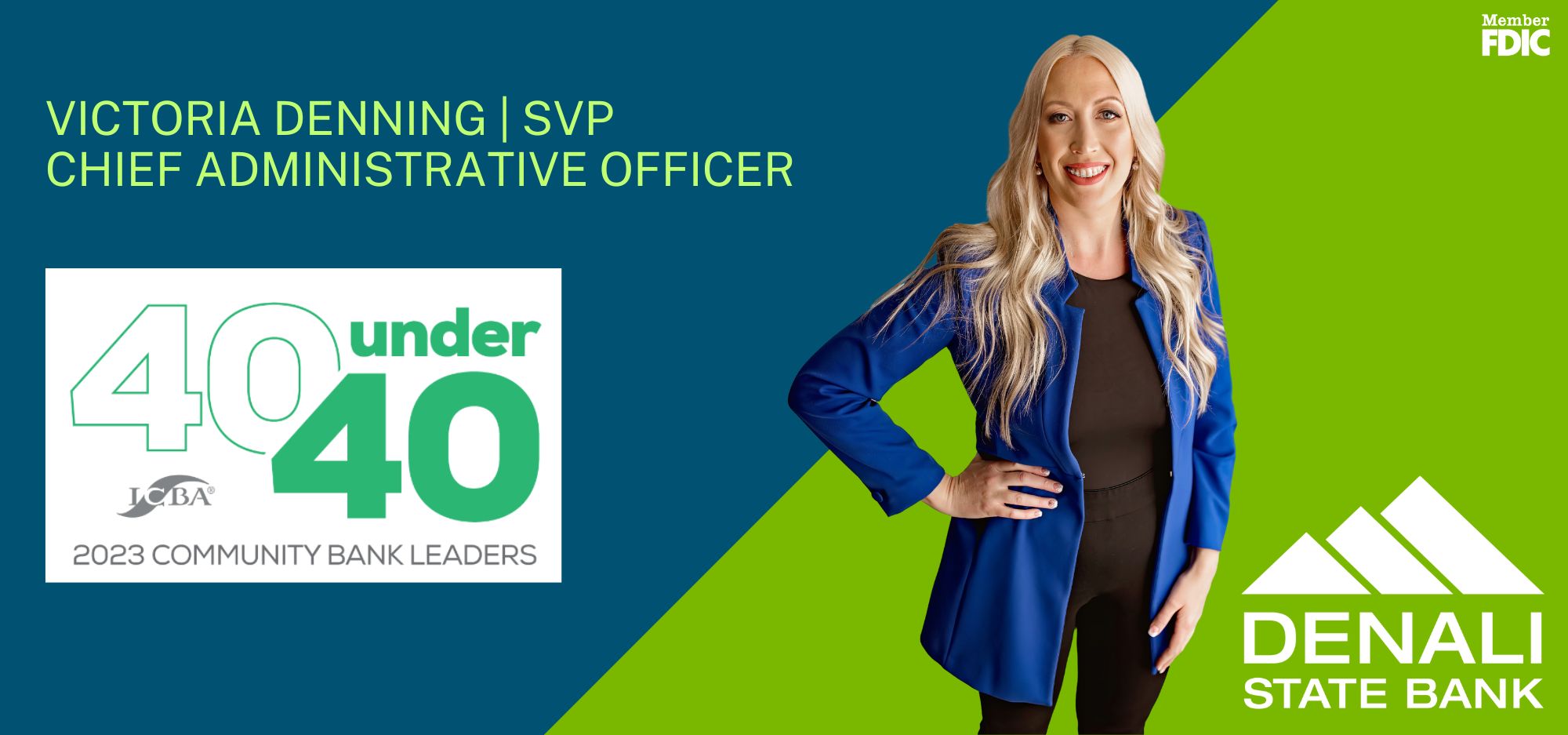 ---
Letter from our President & CEO, Steve Lundgren, regarding the Safety & Soundness of Denali State Bank
March 14, 2023
To our Customers, our Shareholders, and our Community:
I want to take a moment to highlight the safety and soundness of Denali State Bank in light of the recent failure of two large banks which may raise concerns about the financial strength of the banking industry.
Our business model is fundamentally different. Denali State Bank does not participate in the high-risk business activities that resulted in these bank failures, nor do most community banks.
The Denali State Bank 2022 financial audit was recently completed and it reports that we have a strong balance sheet, strong earnings, and a strong capital base. This will soon be available for your review on the Investor Relations page of our website.
As a community bank, we take pride in our relationship-based business model focused on building long-term trust with our customers. We appreciate the opportunity to provide banking services and products to members of our community and look forward to doing so for many years to come.
Please do not hesitate to contact me or any of our staff if you have any questions.
Sincerely,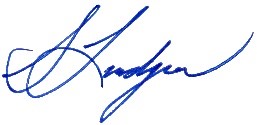 Steve Lundgren
President & CEO
---
Denning Named Top 40 Under 40 | The Alaska Journal of Commerce
February 23, 2023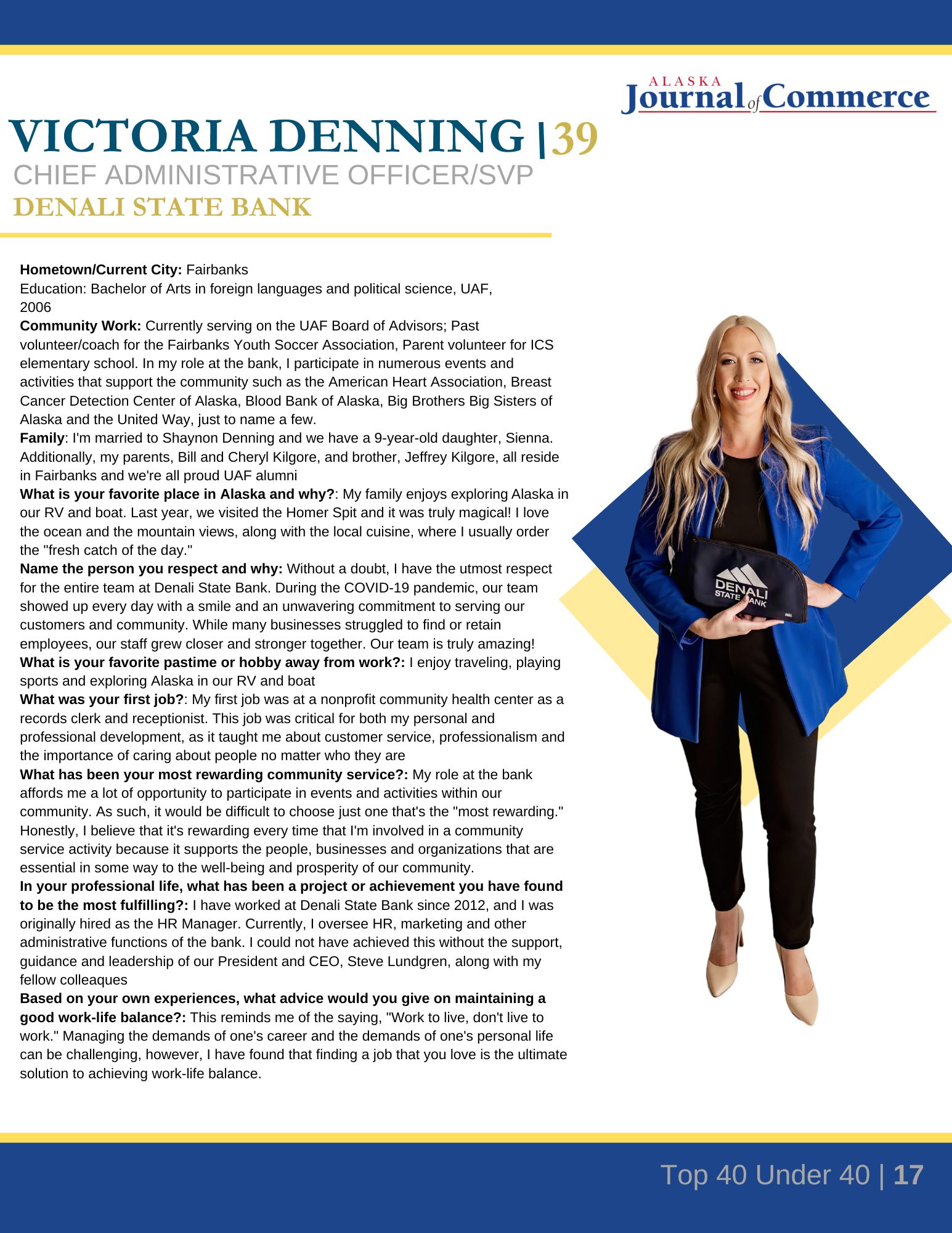 ---
Interior Alaskans should be on ALERT for Financial Scams
According to Denali State Bank's Chief Operations Officer, Andra Lozano:
The financial industry in Fairbanks is seeing an uptick in various phone, email, and text messaging scams causing grave financial harm to consumers. Currently, scammers are calling individuals posing as employees from Amazon, Alaska Airlines, and Pay Pal. It's important for consumers to know that representatives from these large companies will not call individuals seeking payment or immediate action from their customers. If you receive a call from someone claiming to be customer service, it is best to end the call and access the company using published customer service methods, most commonly available directly through the company website or mobile app.
The fraudsters often press for an immediate or urgent response; they want payment or validation of your identity and they appear very friendly, as if they are "helping you out". The fraudster will instruct you not to contact your financial institution and keep you on the phone for hours. Our customers are sharing with us that the fraudster is requesting payment by gift cards or credit card. They may request downloading an app to "further assist"; these apps give the fraudster access to your device where they then obtain sensitive information.
Financial damage to our customers has been reported in the thousands of dollars. These payment methods are often untraceable, allowing the fraudster to disappear. Our hope is to bring attention to these scams and alert consumers to be extremely cautious with their personal information.
Denali State Bank is a locally owned and operated full-service community bank based in Fairbanks, Alaska. Please don't hesitate to contact Andra Lozano and/or Steve Lundgren, President & CEO, with questions or to request additional information regarding this important consumer protection issue occurring within our community.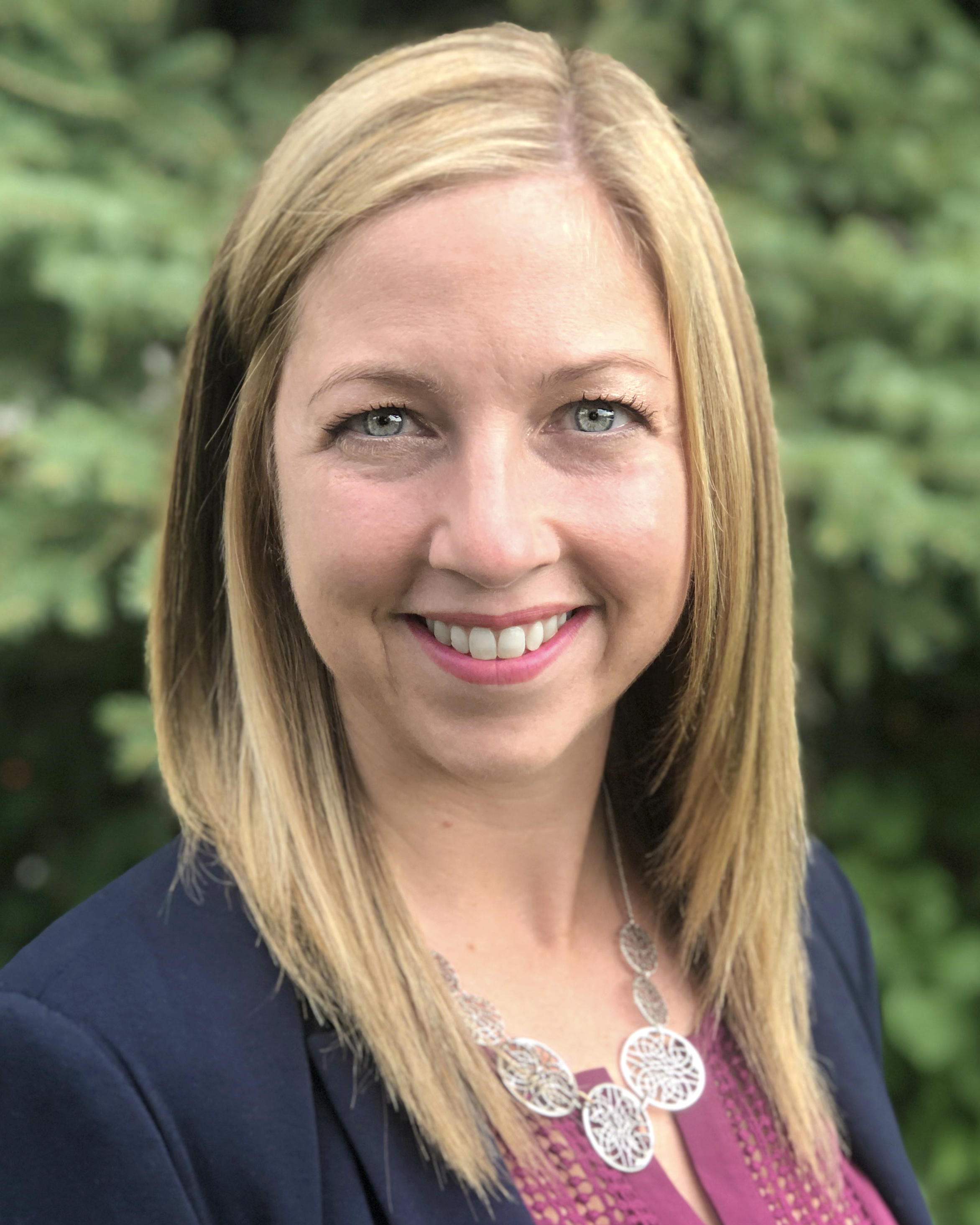 Andra Lozano
EVP | Chief Operations Officer
---
2019 Logo Update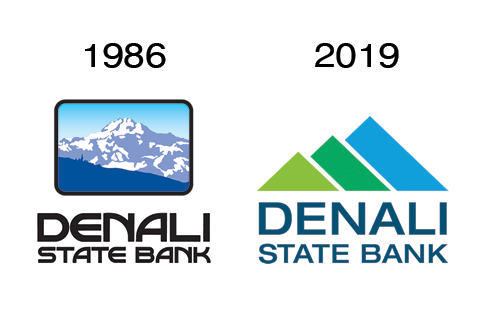 Denali State Bank was established in 1986 and our founders were proud to name the bank after the "tall one," Mount Denali. Since our doors opened, our logo has been represented by a literal image of Mount Denali. Over the years, many other Alaskan businesses have adopted similar Mount Denali logos. And we can't blame them as who wouldn't want to be associated with the tallest mountain in North America?
But after 33 years, we thought it might be time to refresh our logo. After all, our company culture along with the needs and wants of our customers has evolved since 1986. Updating our logo is our way of communicating to YOU, our customer, that we believe in being progressive and we understand how important it is to stay current and competitive with our products and services in order to provide you with the best banking experience. But even though our logo has changed, our core values and our commitment to providing exceptional service to our customers and community remains the same. As of March 12, 2019, we introduced the updated logo on our website and Facebook. We will continue to update bank systems, signage, and all related bank communications with the updated logo over the course of 2019.
In the meantime, please don't hesitate to contact us if you have any questions. Thank you for visiting our Community Relations page and for being part of our Denali State Bank family.
---
Service and Community
Denali State Bank was established in 1986, with the goal of meeting the financial needs of those living and working in the Fairbanks area. And while we're committed to providing the best personal and business solutions to our valued customers, we are equally dedicated to enhancing the quality of life in our community.
At Denali State Bank, we strongly believe in the value of service. We're proud to devote time, talent, and funding in order to have a positive impact on the community. By partnering with the people, businesses, and organizations that make this place so special, we facilitate a sustainable dynamic for positive development and improved quality of life — now and into the future.
Some of the organizations that we support include:
American Cancer Society
Greater Fairbanks Chamber of Commerce
Downtown Association of Fairbanks
Habitat for Humanity
Alaska International Senior Games
American Heart Association
Fairbanks Economic Development Corporation
Arctic Winter Games
Breast Cancer Detection Center of Alaska
Fairbanks Suzuki Institute
Quota International
Tok Chamber of Commerce
Yukon Quest
University of Alaska Fairbanks School of Management
Raven Landing Senior Community
Fairbanks Choice Lions Club
Fairbanks Counseling and Adoption
Fairbanks Community Food Bank
Kiwanis Club
Cold Climate Housing Research Center
Fairbanks Resource Agency
Tok Dog Mushers Association
Fairbanks Youth Soccer
North Star Dance Foundation
United Way of the Tanana Valley
University of Alaska Fairbanks
Interior Alaska Builders Association
Monroe Foundation
Fairbanks Golf and Country Club
Far North Fiddle Fest
Kids Voting North Alaska, Inc.
Fairbanks Symphony Association
Greater Fairbanks Community Hospital Foundation
Nordic Ski Club of Fairbanks
Ice Alaska
Resource Center for Parents and Children
Alaska Housing Finance Corporation
Fairbanks Montessori School
Your Hometown Community Bank
Denali Bancorporation is a privately owned bank holding company located in Fairbanks, Alaska. Its subsidiary, Denali State Bank, is a locally-owned community bank with assets over $490 million that offers retail and commercial bank services including commercial, personal, and mortgage loan products.
The Bank is a state-chartered financial institution that is supervised, examined, and insured by the Federal Deposit Insurance Corporation (FDIC). Adherence to banking practices and standards are monitored through regular bank examinations conducted by state and federal agencies. Denali State Bank also engages independent auditors who examine the accounting and regulatory practices of the Bank.
Denali State Bank provides a full range of financial services, including, but not limited to checking accounts, savings accounts, money market accounts, time certificates, money orders, safe deposit boxes, contract collections, drive-through banking, electronic banking, commercial loans, personal loans, and mortgage loans, including all relevant state loan programs. For everything from checking accounts to credit cards, personal loans to commercial loans, Denali State Bank serves the business and personal needs of the Interior. There are five full-service locations of Denali State Bank located conveniently throughout the Interior.
Community Involvement
Denali State Bank has a tremendous sense of commitment to our community. Our lending philosophies and the active role our staff plays in our community is a great testament to our corporate responsibility. There is seldom a community event in which we are not involved. In addition, we are pleased to provide financial and in-kind support to many local organizations.