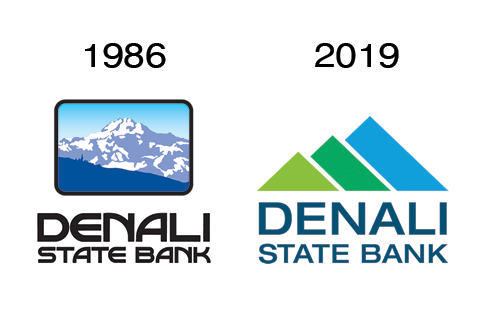 Denali State Bank was established in 1986 and our founders were proud to name the bank after the "tall one," Mount Denali. Since our doors opened, our logo has been represented by a literal image of Mount Denali. Over the years, many other Alaskan businesses have adopted similar Mount Denali logos. And we can't blame them as who wouldn't want to be associated with the tallest mountain in North America?
But after 33 years, we thought it might be time to refresh our logo. After all, our company culture along with the needs and wants of our customers has evolved since 1986. Updating our logo is our way of communicating to YOU, our customer, that we believe in being progressive and we understand how important it is to stay current and competitive with our products and services in order to provide you with the best banking experience. But even though our logo has changed, our core values and our commitment to providing exceptional service to our customers and community remains the same. As of March 12, 2019, we introduced the updated logo on our website and Facebook. We will continue to update bank systems, signage, and all related bank communications with the updated logo over the course of 2019.
In the meantime, please don't hesitate to contact us if you have any questions. Thank you for visiting our Community Relations page and for being part of our Denali State Bank family.
Service and Community
Denali State Bank was established in 1986, with the goal of meeting the financial needs of those living and working in the Fairbanks area. And while we're committed to providing the best personal and business solutions to our valued customers, we are equally dedicated to enhancing the quality of life in our community.
At Denali State Bank, we strongly believe in the value of service. We're proud to devote time, talent, and funding in order to have a positive impact on the community. By partnering with the people, businesses, and organizations that make this place so special, we facilitate a sustainable dynamic for positive development and improved quality of life — now and into the future.
Some of the organizations that we support include:
American Cancer Society
Greater Fairbanks Chamber of Commerce
Downtown Association of Fairbanks
Habitat for Humanity
Alaska International Senior Games
American Heart Association
Fairbanks Economic Development Corporation
Arctic Winter Games
Breast Cancer Detection Center of Alaska
Fairbanks Suzuki Institute
Quota International
Tok Chamber of Commerce
Yukon Quest
University of Alaska Fairbanks School of Management
Raven Landing Senior Community
Fairbanks Choice Lions Club
Fairbanks Counseling and Adoption
Fairbanks Community Food Bank
Kiwanis Club
Cold Climate Housing Research Center
Fairbanks Resource Agency
Tok Dog Mushers Association
Fairbanks Youth Soccer
North Star Dance Foundation
United Way of the Tanana Valley
University of Alaska Fairbanks
Interior Alaska Builders Association
Monroe Foundation
Fairbanks Golf and Country Club
Far North Fiddle Fest
Kids Voting North Alaska, Inc.
Fairbanks Symphony Association
Greater Fairbanks Community Hospital Foundation
Nordic Ski Club of Fairbanks
Ice Alaska
Resource Center for Parents and Children
Alaska Housing Finance Corporation
Fairbanks Montessori School
Your Hometown Community Bank
Denali Bancorporation is a privately owned bank holding company located in Fairbanks, Alaska. Its subsidiary, Denali State Bank, is a locally-owned community bank with assets over $250 million that offers retail and commercial bank services including commercial, personal, and mortgage loan products.
The Bank is a state-chartered financial institution that is supervised, examined, and insured by the Federal Deposit Insurance Corporation (FDIC). Adherence to banking practices and standards are monitored through regular bank examinations conducted by state and federal agencies. Denali State Bank also engages independent auditors who examine the accounting and regulatory practices of the Bank.
Denali State Bank provides a full range of financial services, including, but not limited to checking accounts, savings accounts, money market accounts, time certificates, money orders, safe deposit boxes, contract collections, drive-through banking, electronic banking, commercial loans, personal loans, and mortgage loans, including all relevant state loan programs. For everything from checking accounts to credit cards, personal loans to commercial loans, Denali State Bank serves the business and personal needs of the Interior. There are five full-service locations of Denali State Bank located conveniently throughout the Interior.
Community Involvement
Denali State Bank has a tremendous sense of commitment to our community. Our lending philosophies and the active role our staff plays in our community is a great testament to our corporate responsibility. There is seldom a community event in which we are not involved. In addition, we are pleased to provide financial and in-kind support to many local organizations.