INTRODUCING

Alaska is a unique place to call home and our team has over 50 years of experience here in the Interior to ensure you'll always have the best path to the top.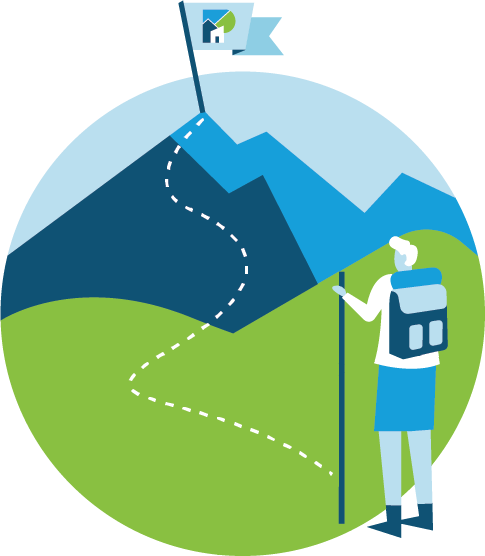 Key Features
Affordable Rates
Pre-Approval Available
Refinancing Available
Local Decision-Making
Details
Competitive rates for home purchase, refinance, or construction of residential properties
Available for primary residence, second homes, vacation homes, or investment properties
Flexible terms customized to your unique situation
A wide range of financing programs available
Helpful loan advisors with working knowledge of the local real estate market
Free pre-approval for extra confidence when it comes to securing financing
Refinance your current home to potentially lower your rate
Fast decision-making and processing right here in Fairbanks
Attentive, friendly service from local financial experts
Get in Touch
We'd be happy to talk to you more about buying your dream home. Contact our Mortgage Department by phone at 907.458.4202 or email one of our Mortgage Loan Officers:
Mortgage Programs
Alaska Housing Finance Co. (AHFC) Loans
First time home-buyer loans
Renovation loans
Energy efficiency
Alaska Housing Finance Corporation offers a variety of loan programs. From first time home-buyers to energy efficiency upgrades to rehabilitation projects, just to name a few.
Veterans Administration (VA) Loans
Veterans, active military members, or their surviving spouses may qualify for a VA loan. With this special military financing, a Veteran or family member may purchase a home with no down payment.
Federal Home Administration (FHA) Loans
The FHA offers owner-occupied borrowers the ability to obtain home ownership with a low down payment of 3.5%. An FHA insured mortgage can be used to purchase or refinance a new or existing multiple family dwelling, such as a duplex or condo.
Cabin Loan Program
The cabin loan program is a Denali State Bank in-house loan product that allows Alaskans the opportunity to finance an unconventional type of property. There are options available for single residence, detached residence, and investment properties.
Conventional Home Loans
Purchase or Refinance
Fannie Mae and Freddie Mac set the terms and conditions for conventional home loans. These loans can be a fixed-rate mortgage or an adjustable rate mortgage. They require a down payment by the borrower and have a wide range of payment period terms.
Doctor/Dentist Home Loan Program
The Doctor/Dentist Home Loan Program is an in-house loan product that provides special financing for Doctors or Dentists that intend to reside in Alaska. This program is for established or new medical professionals (Doctor/Dentist) who have completed or will be completing their residency. Student loans that are deferred for 12 months or more will not be counted in the qualifying ratios, which allow for a lower debt to income ratio for qualifying. Income for this program can be based on a signed employment contract with a start date no later than the note of closing.
Construction Loans
Competitive rates for your home construction project
Available for primary residence or second home construction
Provides more convenience, especially toward the end of the construction phase and the beginning of permanent mortgage
Pay off interest quicker; payments are interest-only during construction phase
Payments are made on the amount drawn on your loan sufficient to pay your builder
Construction draws applied in stages based on work completed
Local lenders with construction knowledge for our arctic climates
Land Loans
A variety of rates and terms to meet your needs.
Purchase vacant and undeveloped land for future home building or investment.
Finance up to 80% of the land's value.
No acreage restrictions.
Power, well and septic aren't usually required.
Flexible timelines for future building.