Your dreams — funded by your neighbors. Get homegrown financing from locals just down the road.
Key Features
Affordable Rates
Flexible Terms
Local Decision-Making
Personal Service
Details
Competitive rates for a wide variety of personal needs:

Vehicle repairs or updates
Family vacation
Education expenses
Personal projects or startups
And much more

Flexible terms customized to your unique situation
Set up "Auto Pay" to receive a 0.25% rate discount
Fast decision-making and processing right here in Fairbanks
Attentive, friendly service from local financial experts
LendingClub Partnership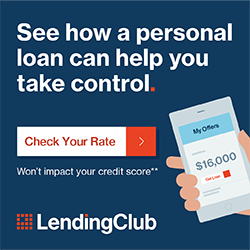 Denali State Bank has partnered with LendingClub, a trusted credit marketplace, to provide its customers a lower-cost alternative to a traditional personal loan.
LendingClub is America's largest online credit marketplace. They use technology to operate a credit marketplace at a lower cost than many traditional bank loan programs, with lower rates.*
Over 2 million customers have used a personal loan through LendingClub to pay down their high interest debt, kick-off a home improvement project or make a major purchase. Learn why more borrowers are choosing a loan through LendingClub every day.
Fast and Easy Application
Fast and easy application, with no impact to your credit score**. You can instantly review loan offers that you qualify for and then complete your application all online! Visit the website.
Flexible Amounts and Terms, with No Pre-Payment Penalties
Loan amounts up to $40,000, featuring monthly installment payments that will never increase.
Prepay and Save
You can prepay your loan at any time to eliminate future interest payments. There's never a prepayment penalty or fee.
LendingClub FAQs
How do I apply for a loan?
Applying for a loan through LendingClub is fast, easy, and confidential.
Visit lendingclub.com/Denali
Enter the information requested. Remember, you can check your rate in just minutes with no impact to your credit score**
Select the option you like best from the offers you receive
Complete the online application form and verification process
If you are approved and investors commit to backing your loan, your loan proceeds are automatically deposited into your bank account!
Who will service my loan if I borrow through this program?
LendingClub will service your loan; therefore, you would manage your account through their website and contact them directly with any questions.
Can I make a payment on the loan at any Denali State Bank branch?
No, all payments must be made directly through LendingClub. Once you are a LendingClub customer, payments are automatically deducted from your bank account, and you'll receive an email reminder a few days beforehand so you can make sure the money is there. You may also choose other payment methods.
**Checking your rate generates a soft credit inquiry, which is visible only to you, A hard credit inquiry that may affect your credit score only appears when your loan is issued.
Kasasa Personal Loans™
The only personal loan with Take-Backs™
Introducing a new type of personal loan that helps you get out of debt faster — and save on interest. See the difference that Take-Backs can make.
Pay ahead to shorten the term and save on interest
Access that extra cash at any time
Manage your loan with a mobile-friendly dashboard
See the impact of changes before you make them