Letter from our President & CEO, Steve Lundgren, regarding the Safety & Soundness of Denali State Bank
March 14, 2023
To our Customers, our Shareholders, and our Community:
I want to take a moment to highlight the safety and soundness of Denali State Bank in light of the recent failure of two large banks which may raise concerns about the financial strength of the banking industry.
Our business model is fundamentally different. Denali State Bank does not participate in the high-risk business activities that resulted in these bank failures, nor do most community banks.
The Denali State Bank 2022 financial audit was recently completed and it reports that we have a strong balance sheet, strong earnings, and a strong capital base. This will soon be available for your review on the Investor Relations page of our website.
As a community bank, we take pride in our relationship-based business model focused on building long-term trust with our customers. We appreciate the opportunity to provide banking services and products to members of our community and look forward to doing so for many years to come.
Please do not hesitate to contact me or any of our staff if you have any questions.
Sincerely,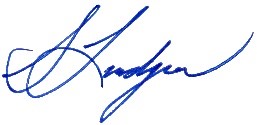 Steve Lundgren
President & CEO